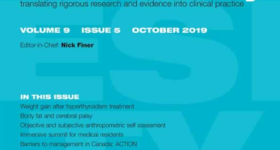 Amanda Velazquez, Katie Robinson, Jennifer Frederick, Robert Kushner
Obesity Summit for Medical Trainees
|
14 HRS

Explaining The hours
The authors describe a model for an innovative, extramural, immersive approach to educate trainees on the various aspects of obesity management. Obesity-related topics were reviewed using state-of-the-art pedagogical techniques during a live 2.5‐day continuing medical education summit. Educators assessed the short‐ and long‐term impact of the workshop on trainees' knowledge, competence and confidence in caring for patients with obesity in an outpatient setting.
For additional information about this curriculum and outcomes, please see:

Velazquez A, Robinson KJ, Frederick JL, Kushner RF. Development and outcomes of an immersive obesity summit workshop for medical resident and fellow education. Clinical Obesity. 2019:e12315.
LEARNING OBJECTIVES
After participating in the Obesity Summit, learners should be able to:
Review etiologic factors implicated in the development of obesity
Describe the biology and pathophysiology of obesity, including the roles of genetic factors as well as hypothalamic and adipose tissue function
Identify barriers to communicating with patients about obesity
Define the components of effective counseling for obesity
Examine approaches to the assessment and management of dietary and physical activity factors in patients with overweight and obesity
Address issues involved in assessing and managing behavioral and psychological components of obesity
Review the safety and efficacy of pharmacologic therapies for obesity, including recently approved medications
Identify considerations involved in selecting candidates for bariatric surgery
CURRICULUM
A live 2.5‐day continuing medical education summit was held 11 to 13 March 2016. Obesity‐related topics were reviewed using state‐of‐the art pedagogical techniques. Sixty‐three candidates interested in additional obesity medicine training were nominated by US residency and fellowship program directors and selected to attend the summit. This immersive summit promoted robust gains in knowledge and confidence, ultimately translating to reported practice improvements at the individual and health system levels.
Unique educational formats used during the Obesity Summit:
Four Corners Obesity Exploration: by physically moving to a designated corner of the room, learners voice whether they strongly agree, agree, disagree or strongly disagree with controversial topics regarding obesity (e.g. is obesity a disease?)
Individual Readiness Assurance Test (iRAT): learners were held accountable for completion of the pre‐study material by answering multiple choice questions based on the content; responses were displayed via an audience response system
Group Readiness Assurance Test (gRAT): learners worked as a team to answer additional multiple choice questions based on case studies.
Hot Topics in Obesity: faculty‐led discussion on cutting‐edge topics in obesity (e.g. why do patients regain weight?)
Obesity in the Media: faculty provide a media clip and lead discussion on both sides of the issue (e.g. Atkins diet, detoxification)
Addressing the Stigma: presentation by faculty and a patient with obesity
Think‐Pair‐Share: learners think independently about challenging obesity cases then discuss as a pair and finally share their response with the group.
Wheel of Obesity Knowledge: group is divided into teams to answer questions based on topics covered throughout the summit. A leader board promoted friendly competition.
The article Appendix includes curricular resources needed to implement this activity.
Appendix A: Obesity summit pre‐activity survey
Appendix B: Individual readiness assurance test (iRAT) questions and wheel of knowledge questions
Appendix C: Audience response system‐facilitated questions
Appendix D: Evaluation of the obesity summit using Moore's outcomes framework (level 2)
Appendix E: Qualitative questions collected 180 days post‐activity