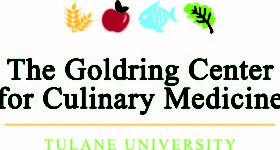 Goldring Center for Culinary Medicine at Tulane University (GCCM)
|
20 HRS

Explaining The hours
Through innovative nutrition curriculum and hands-on training in the culinary arts, GCCM seeks to better prepare future physicians to serve and heal patients and communities.
***Winner of the 2017 Innovation Award for Health Care Provider Training and Education.***
To learn more about the awards, please visit www.innovatinghealthcare.org.
Overview
The Goldring Center for Culinary Medicine (GCCM) at Tulane University is the first dedicated teaching kitchen to be implemented at a medical school. GCCM provides hands-on training for medical students through culinary medicine classes in the form of electives and seminars as well as continuing education for the healthcare and food-service industries.
Medical Students
Although GCCM hosts classes for different audiences, the primary goal is to make an impact on medical students. The first and second year medical students are required to complete a 3-hour class twice a year at the Goldring Center for Culinary Medicine for Foundations In Medicine (FIM). Medical students in their first and second year may also choose to participant in the Culinary Medicine elective consisting of a 3-hour class
once a week for 9-weeks.
GCCM rotations (MS4 / Resident elective) involve building content and helping guide hands-on cooking classes for 1st year medical students, allied health workers and community members. These classes cover culinary medicine and culinary nutrition concepts, meal planning principals and culinary technique. Student learn by leading, and rotations include an introduction to the kitchen and knife-skills.
General rotation structure/schedule:
Week 1
• Learn the Mediterranean diet
• Become familiar with our classes
• Guide clinical discussion in medical student classes
• Complete Safety and Sanitation module
• Complete module 1: Introduction to Culinary medicine
• Complete module 2: Weight Management & Portion Control
Week 2
• Lead the discussion at community classes
• Lead discussion for resident classes
• Complete module 3: Fats
• Complete module 4: Food Allergy and Intolerance
Week 3
• Lead at least one knife demo and kitchen tour
• Complete module 5: Proteins, Amino Acids, Vegetarian Diets, Eating Disorders
• Complete module 6: Sodium, Potassium, Hypertension
Week 4
• Understand how to research, support/dispel nutrition trends
• Have developed scripts on counseling patients for common dietary interventions
• Cook one team lunch
• Complete module 7: Carbohydrates
• Complete module 8: The Pediatric Diet
Continuing Education
GCCM's secondary target is to teach continuing education to medical professionals. They offer pharmacists, physicians, physician assistants, nurse practitioners, nurses, certified diabetes educators and registered dietitians a chance to take the class and complete the program to become a Certified Culinary Medicine Specialist. The curriculum is tailored to fit specific health problems the providers may encounter in their practice, with modules specific to caring for patients with unique nutritional needs (e.g. diabetes, cancer, bariatric surgery).