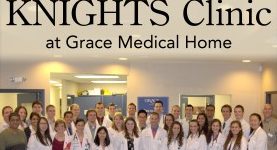 University of Central Florida
KNIGHTS Student-Run Free Clinic
|
5 HRS

Explaining The hours
This student-run free clinic is an extracurricular program designed to help medical students learn to assess, treat and counsel on lifestyle changes for patients with obesity. 
***Winner of the 2017 Innovation Award for Health Care Provider Training and Education.***
To learn more about the awards, please visit www.innovatinghealthcare.org.
Overview
The KNIGHTS Clinic is coordinated by medical students at University of Central Florida College of Medicine (UCF COM) and staffed by student and physician volunteers from all areas of study, including medical, nursing, undergraduate, and graduate students, working in interdisciplinary teams alongside community collaborators and under the guided supervision of licensed practitioners. The goals of the clinic are to provide medical and preventive care to those without healthcare and to educate the community using an interdisciplinary, community based approach. Program advisors strive to instill in future health professionals an appreciation for community-based medicine and serving disadvantaged populations. The clinic serves Orlando and neighboring communities through direct health care services, health promotion, disease prevention, social support, case management, and appropriate referrals to medical and social resources in the community.
The program is innovative as it allows students opportunities to apply the medical knowledge learned from their required medical curriculum in practice during clinical encounters, under the supervision of faculty advisors. It teaches medical students that all patients with overweight and obesity need to have shared approach assessment and management plan, as well as counseling sessions on weight loss, using the evidence based methods. Working with faculty that are free of weight bias, the students learn to have a bias-free attitude towards patients with overweight and obesity. In addition, this program provides opportunity for interprofessional medical care between the medical, pharmacy and social work students.
The student board consists of ten committees that run all clinic operations, including:
Fundraising Committee

Finance Committee/Treasury

Community Relations/Physician Referrals Committee

Media Relations

Volunteer Coordinators

Website and Electronic Medical Record

Research Coordinator

Pharmacy/Dispensary

Patient Education

Laboratory Committee
The committee infrastructure allows for inclusiveness and accountability for clinic improvements. It also enables the large group of student volunteers to take ownership and pride in their work. All students involved with the clinic have the responsibility to aid in the clinic's success.
Most students participate in this program between 1 and 15 times during their medical training, providing opportunity for new skill acquisition and maintenance. During each visit, students are responsible for the various roles of patient care, including clerical duties, managing patient records, pharmacy/dispensary, laboratory, patient interview, physical exam, presentation to physician, discussion with physician on assessment/plan, and presentation of assessment/plan to patient with the physician.