American Academy of Pediatrics, Kognito
Change Talk: Childhood Obesity
|
1 HRS

Explaining The hours
An interactive role-play simulation for health professionals that builds their motivational interviewing skills to lead real-life conversations with parents and their children about healthy weight and childhood obesity. Scenarios cover the topics of sugary drinks, breastfeeding, and picky eating.
Overview
Developed in collaboration with the American Academy of Pediatrics (AAP) and utilized by more than 35,000 health professionals to date, this online and mobile solution builds the capacity of health professionals to harness the power of conversation to drive positive change in health behaviors and reduce the risk of childhood obesity.  Titled Change Talk, the 12–minute web-based module and mobile app is designed to help health professionals utilize motivational interviewing techniques to navigate challenging family and patient conversations regarding childhood obesity.
Learning Objectives:
Understand the power of motivational interviewing in driving behavior change
Use MI techniques to help patients identify motivation for change and make an action plan
Learn to lead challenging family and patient conversations regarding healthy weight
How to Access
Change Talk is a free app and web resource. It is available for download from the Apple App Store,℠ Google Play,™ and the Amazon App Store. The web version can be accessed at ihcw.aap.org/resources or kognito.com/changetalk.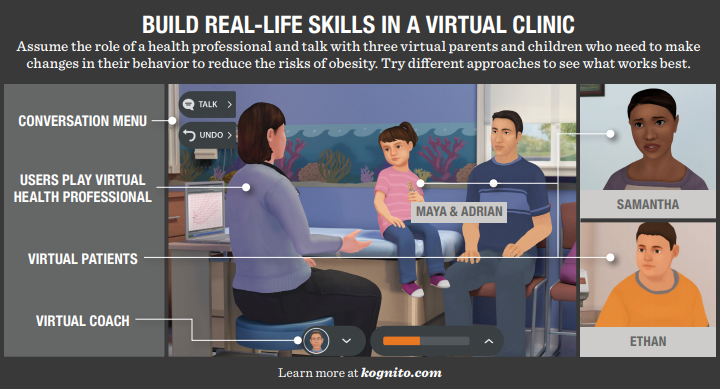 Change Talk: Childhood Obesity was developed by the American Academy of Pediatrics Institute for Healthy Childhood Weight (Institute) and Kognito. Development of this app was made possible by a grant from Danone Early Life Nutrition. The Institute gratefully acknowledges the shared commitment and support of its Founding Sponsor, Nestlé.